Personal Checking Accounts
Specialized checking accounts mean more extras where you need them the most. Low opening deposit? We've got it. Checking that pays you interest? We have that too.
1st Rate - Rewards Checking
The purpose of the account is to offer our customers the "rewards" of a higher rate on a checking account that is used like any other checking account, with certain expectations and requirements. Those requirements are:
$100 minimum opening balance
Direct Deposit
Signing on to Online Banking at least once a month
Receiving eStatements
Having 15 or more POS transactions posted (and settled) to your account per statement cycle
Must be a Yuma County or Santa Cruz County Resident to open this account.
If account does not meet requirements during monthly cycle a .05% APY will be earned on entire balance. 3.00% APY* PAID ON BALANCES up to $25,000
Examples of expectations include deposits and withdrawals throughout the statement cycle, such as direct deposit of paychecks or Social Security checks, etc., along with POS debit transactions throughout the month of varying amounts at various retailers.
This does not include transactions such as multiple small-dollar POS transactions at the end of the statement cycle in order to earn the higher APY, which would not be consistent with the design of the account. If this should happen, you will receive a courtesy letter from the bank, reminding you of the intended purpose of the account and that it may be subject to closure at the bank's discretion.
*INTEREST RATES ARE EFFECTIVE AS OF FEBRUARY 19, 2021 AND ARE SUBJECT TO CHANGE AT OUR SOLE DISCRETION. Please call us at (866) 384-3226 to verify updated Interest Rates and Annual Percentage Yields.
Fees could reduce the earnings on these accounts.
APY = Annual Percentage Yield.

1st Exclusive Checking
$100.00 minimum opening balance
Unlimited check writing
MASTERCARD Debit Card
Check images included with monthly statements *no charge
$7.00 monthly maintenance fee
Monthly fee waived with eStatements
No minimum balance requirements
1st Senior Checking
$100 Minimum opening balance
Offered to persons 55 and over
$5.00 Monthly Maintenance Fee
Monthly fee waived with eStatements or a monthly Direct Deposit
No Miminum Balance requirements
Unlimited check writing
Logo Checks (shipping and handling not included)
MASTERCARD Debit Card
Check Images included with Monthly Statements - No Charge

1st Executive Checking
$1,000 Minimum opening balance
Minimum to Earn Interest $1,500
Earns Interest on Daily Ledger Balances - Paid Monthly
Unlimited check writing
Maintenance Fee $10 (if minimum daily balance of $1,500 not met)
MASTERCARD Debit Card
Check Images included with Monthly Statement - No Charge
Free Cashier's Checks and 25% Discount on annual rental fee for Safe Deposit Box
1st Elite Checking
$5,000 Minimum opening deposit
Minimum to Earn Interest $5,000
Primary Account Needed for Relationship with 1st Elite Savings
Maintenance Fee $15 (if minimum daily balance of $5,000 not met or combined balance of $25,000 - excluding CD's)
Earns Interest on Daily Ledger Balances or $5,000 or more - Paid monthly
MASTERCARD Debit Card
Unlimited Check Writing
Check Images Included in Monthly Statement - No Charge
Free Casheir's Checks
Free Logo Checks (shipping and handling not included)
1st Premium Money Market Account
Tiered interest rates based on balance ranges beginning at ledger balances of $1,500. (Daily Ledger Balance) Tiered Structure: $1,500; $10,000; $25,000; $50,000:+ and $100,000+
Monthly Maintenance fee of $10 if minimum daily balance of $1,500 not met
Account Comparisions
| Document | Earns Interest | Min to Open | Min to Earn Interest | Online Banking | EStatements |
| --- | --- | --- | --- | --- | --- |
| 1st Rate Rewards Checking | Yes | $100.00 | $0.01 | Yes | Yes |
| 1st Exclusive Checking | | $100.00 | | Yes | Yes |
| 1st Senior Checking | | $100.00 | | Yes | Yes |
| 1st Executive Checking | Yes | $1,000.00 | $1,500.00 | Yes | Yes |
| 1st Elite Checking | Yes | $5,000.00 | $5,000.00 | Yes | Yes |
| 1st Premium Money Market Account | Yes | $1,000.00 | $1,500.00 | Yes | Yes |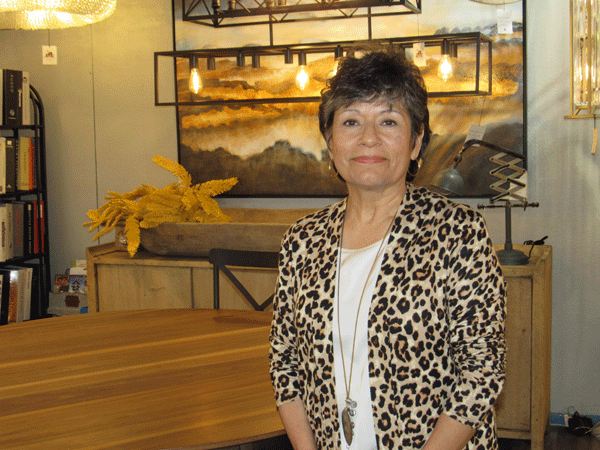 "I love 1st Bank Yuma's level of experience! No matter what my question is, they know how to guide me. I can trust them and their expertise! They shop where I shop, eat where I eat and to me that is LOCAL!"
Gloria DeAnda, Owner - Arizona Lighting Company